Fairgrounds Vallejo Place – Cheap Houses for Sale in Imus Cavite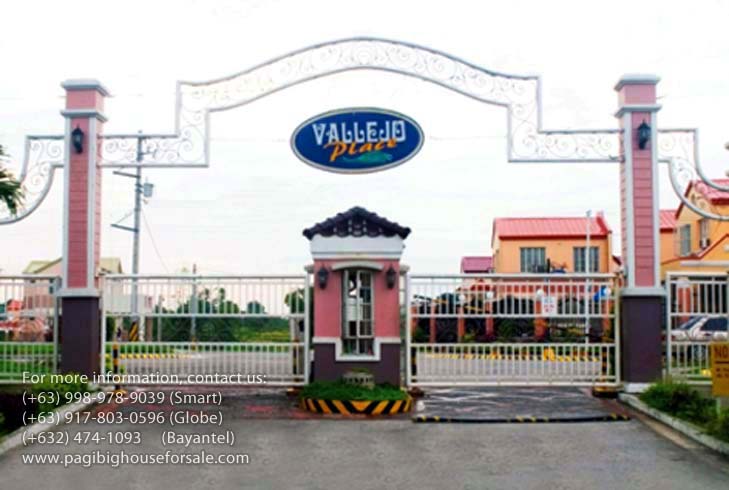 Fairgrounds Vallejo Place is a Mediteranean inspired housing project that offer affordable Pag-ibig houses for sale in Imus Cavite. Located in Barangay Pasong Buay, Fairgrounds Vallejo Place is part of a master-planned community which has direct access via both Molino – Paliparan and Daang Hari Roads. These are the main routes to various points in Cavite, Alabang and Makati, so your travel is traffic- less and hassle-free. The location of Fairgrounds Vallejo Place is also within proximity to major central business districts of Imus and Bacoor and the SM Supercenter and Starmall which is just 200 meters away and The Ayala District Mall which is just a few minute drive.
Fairgrounds Vallejo Place offers affordable single attached Pag-ibig houses for sale like Celine, Charlene and Denise house models and low-cost townhouses like Ashlee, Audrey, Chesca and Bridgette.. Make your choice now. There are only few units left at Fairgrounds Molino, so reservation will be on first come first serve basis.
With commercial establishments sprouting like mushrooms near Fairgrounds Vallejo Place, it is not surprising if price will increase again. So contact us now. Don't miss this chance to own a house in central location.
About Fairgrounds Vallejo Place
Houses Offered:  Single Attached Houses and Townhouses
House Turn-over:  Complete and Semi Complete
Village Name:  Fairgrounds Vallejo Place
Address:  Barangay Pasong Buaya 2, Imus, Cavite 4103
Condition:  Brand New and Re-opened Units
Available Units:  Pre-Selling  & Ready for Occupancy Houses
Developer/Owner:  Masaito Development Corporation
Track Record as Developer:  38 yrs (since 1976)
Awarded:  2009 Outstanding Properties Developer
Awarded By:  The National Consumer Affairs Foundation (NCAF)

 Asia's pioneer consumers group.
Fairgrounds Vallejo Place House Model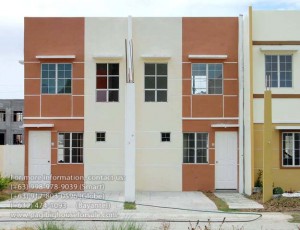 Chesca
2-Storey Townhouse
2 Bedrooms | 1 Toilet | 1 Carport | Service Area
Floor Area: 40 square meters
Lot Area Range: 44 – 66 square meters
Price Range: Php1.1M – Php1.8M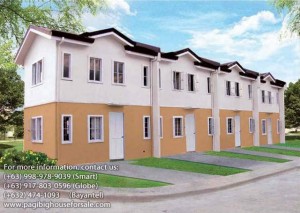 Ashlee
2-Storey Townhouse
2 Bedrooms | 1 Toilet | 1 Carport | Service Area
Floor Area Fixed: 40 square meters
Lot Area Range: 55 – 131 square meters
Price Range: Php1.3M – Php2.2M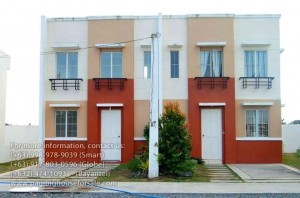 Audrey
2-Storey Townhouse
2 Bedrooms | 1 Toilet | 1 Carport | Service Area
Floor Area Fixed: 45 square meters
Lot Area Range: 55 – 72 square meters
Price Range: Php1.4M – Php1.7M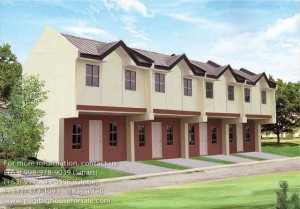 Bridgette
2-Storey Townhouse
2 Bedrooms | 1 Toilet | 1 Carport | Service Area
Floor Area Fixed:  49 square meters
Lot Area Range:  55 – 85 square meters
Price Range:  Php1.5M – Php1.9M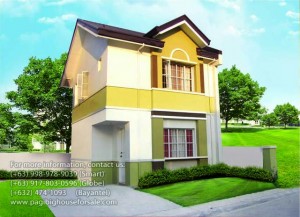 Charlene
2-Storey Single Attached
3 Bedrooms | 2 Toilet | 1 Carport | Service Area
Floor Area Fixed: 61.51 square meters
Lot Area Range: 88 – 149 square meters
Price Range: Php2.3M – Php3.1M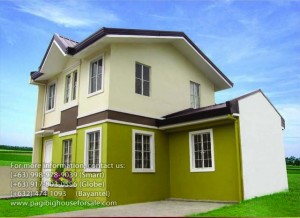 Celine
2-Storey Single Attached
3 Bedrooms | 2 Toilet | 1 Carport | Service Area
Floor Area Fixed: 70 square meters
Lot Area Range: 88 – 136 square meters
Price Range: Php2.4M – Php2.8M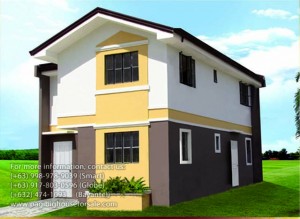 Denise
2-Storey Single Attached
4 Bedrooms | 2 Toilet | 1 Carport | Service Area
Floor Area Fixed: 75 square meters
Lot Area Range: 88 – 118 square meters
Price Range: Php2.6M – Php2.9M
Fairgrounds Vallejo Place Amenities▲
Multi-purpose Hall
Basketball Court
Children's Playground
Landscaped Entrance Gate
Swimming Pool
Fairgrounds Vallejo Place Nearby Establishment▲
Malls:  SM Molino, Starmall, The Ayala District Mall, Festival Mall
School:  Statefield School, Divine Light Academy, Molino 3 Elem. School
University:  Perpetual Help University, San Beda College (Alabang), De LaSalle Dasmarinas
Church:  St. Joseph Parish Church, Iglesia ni Cristo, Sto. Nino de Molino Church
Hospital:  Metrosouth Medical Center, Molino Doctors Hospital, St. Dominic Hospital
Fairgrounds Vallejo Place Site Development Plan▲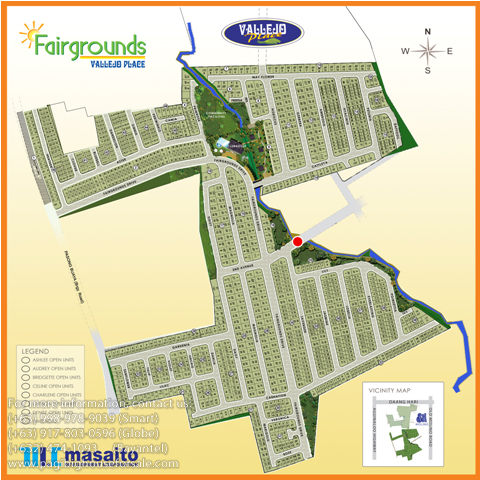 Location Map of Fairgrounds Vallejo Place▲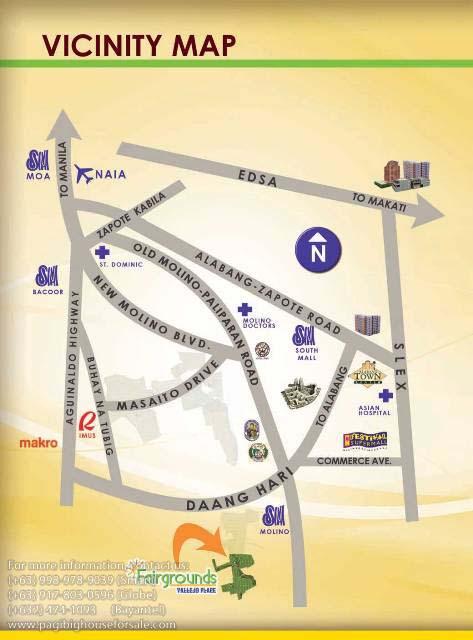 How to Reach Fairgrounds Vallejo Place▲
From Alabang/Muntinlupa
Take jeepney at South Station or in Star Mall Alabang going to SM Molino
Get off at SM Molino
Ride a tricycle to Vallejo Place
From Baclaran
Ride a jeep with signboard Paliparan or Golden City (via Molino Boulevard)
Get off at SM Molino
Ride a tricycle to Vallejo Place
Contact Us
Allow us to help you find the home you dream for your family. And as starter, tripping vehicle, viewing assistance and computation request is FREE and No Charge. Get your schedule now by emailing:   inquire@pagibighouseforsale.com.  Or chat or call or text us at  (+63) 998 978 9039 (Smart)
Back to Pag-ibig Houses
Contact Us▲
Learn more about Fairgrounds Vallejo Place. Allow us to help you find the home you dream for your family. And as starter, tripping vehicle, viewing assistance and computation request is FREE and No Charge. Get your schedule now by emailing: pagibighouseforsaleph@gmail.com. Or call or text us at +63 908 884 7387 (Smart) / +63 917 530 5817 (Globe)
Back to Pag-ibig Houses