La Terraza - Pag-ibig Rent to Own Houses for Sale in Imus Cavite
Pag-ibig Rent to Own Houses for Sale starting at Php 1.7M - Php 2.5M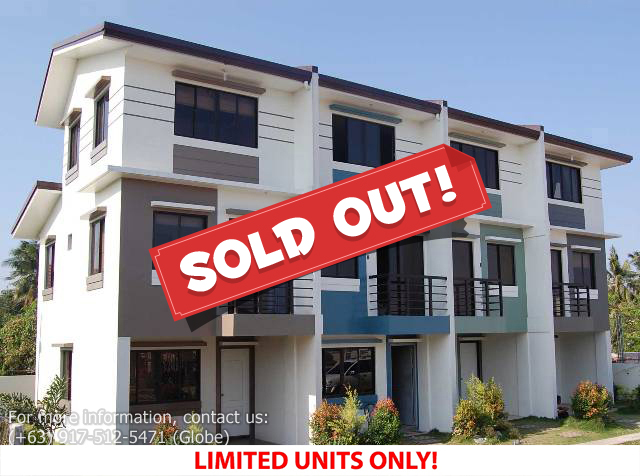 SOLD OUT
Milano Villas at La Terraza is a 3 storey cheap houses for sale thru Pag-Ibig in Imus Cavite that has 3 toilet, 1 car garage and provision for 3 bedroom nicely located in Barangay Carsadang Bago near Cavitex area.. The turn-over is basic so that you can explore on the improvement. There are only few Milano Villas at La Terraza offered here and selling is fast.
These 3 storey Pag-ibig cheap houses don't last long in the market. With only few units left, you must hurry. Call us for your site viewing schedule and reservation.
SOLD OUT
About Milano
| | |
| --- | --- |
| House Model | Milano |
| House Type | Townhouse |
| House Turn-over | Basic |
| Village Name | La Terraza |
| Condition: | Brand New |
| Lot Area | 44 square meter |
| Floor Area | 77 square meter |
| Bedroom Provision | 3 |
| Toilet and Bath | 3 |
| Carport | 1 |
| Price Range | Php 1.7M - Php 2.5M |
| Available Units | Pre-Selling and Ready for Occupancy |
| Developer/Owner | Charles Builders Group |
| Track Record | 20 yrs. (1980's) |
| Address | Barangay Bucandala 1, Imus, Cavite 4103 |
Milano Sample Computation▲
Applicant Housing Loan Qualification ▲
Gross salary (husband & wife) meet the required amount.
If salary is not enough, just get a co-borrower.
Must be legally married to husband or wife.
If divorce or wedding is annulled, must submit documents as proof.
Multi-purpose loan payment with Pagibig is updated.
Must be a Pagibig member for 2 years.
If not yet a member, just apply for membership in Pagibig office near you.
Must have paid 24 months contribution.
If contribution has not reach 24 mos, just pay the balance in lumpsum or one time payment in Pagibig office near you.
Your age is between 21 – 65 yrs. old.
Must check that loan maturity is up to 70 yrs old only.
Milano Payment, Terms & Conditions▲
1.  Available Financing  and Acceptable Payment Scheme:
Pagibig  – Developer will process your loan with Pag-ibig
Deferred Cash – maximum of 2 years to pay in equal monthly installment without interest.
Cash
2.  Reservation Fee – is part of the Total Contract Price
Reservation fee of P5,000.  Non-refundable
Accept  Cash and Check only.
3.  Total Contract Price – includes water & Meralco connection & Misc. fees for documentation
4.  Amortization Interest Rate & Terms  –  Amortization is not refundable and not transferable
Pagibig  –  Monthly amortization is computed at:

7% per year.  Fixed rate for 3 yrs.
Amortization amount is subject to reprising after 3 years as per Pag-ibig policy.
Amortization amount does not include other fees such as MRI insurance, Pag-ibig monthly contribution, etc.
The exact monthly amortization will be determined during loan processing.
Maximum loan term is up to 30 yrs. for OFW and locally employed .
5.  Schedule of Payments
Reservation Fee – valid for 30 days
Start of Equity or DP  – 30 days after official reservation
Start of Monthly Amortization –

Pagibig Financing – after loan take-out by Pagibig
Deferred Cash – 30 days after reservation. 
6.  Discounts
Full payment of Total Contract Price (TCP) – 5% discount
7.  Other Fees to Pay Separately
Title Transfer – to be paid after downpayment period
Real Property Tax – to be paid one (1) month after loan take-out

Estimated Amount:  Php 1,000.00
Same amount for Pagibig, Inhouse, Cash Deferred or Cash Payment

Insurances –  Fire and Mortgage Redemption Insurance (MRI)

Pagibig  – Fire and MRI insurance will be determined during loan processing and will be added to the monthly amortization

Move-in Fees –  NO move-in fees.
Construction Bond Amount –  this is refundable.  To be paid 30 days before start of house improvement construction.  Refundable if there is no damage done after construction. The premium of the bond will be deducted.

Estimated Amount:  Php 5,000.00 for townhouses
8.  When can Buyer move-in?
Pagibig Financing – Buyers are allowed to move-in only after full equity payment & loan released.
9.  Required Documents During Reservation – No Documents,  No Reservation
Locally Employed -  2 Valid Government issued  ID and  Latest one (1) month payslip
OFW -  2 Valid ID & Job Contract or Latest one (1) month payslip
Self-Employed – 2  Valid IDs and Latest financial Statement
10.  Schedule of House Construction  -  ongoing
11.  Restrictions on House Improvement  - Buyer must submit sketches of house improvement to Developer's office for approval.  No deletion on any part of the house is allowed.
12.  Prices of house and lot are not always the same.
Price of end unit, corner lot, main road and near amenities units are higher than inner lot.
House and Lot price will NOT be the same, as it varies and depends on lot orientation.
Prices are subject to change without prior notice.
Always verify all amounts in the computation with us if they are still available or not.
Milano Floor Plan▲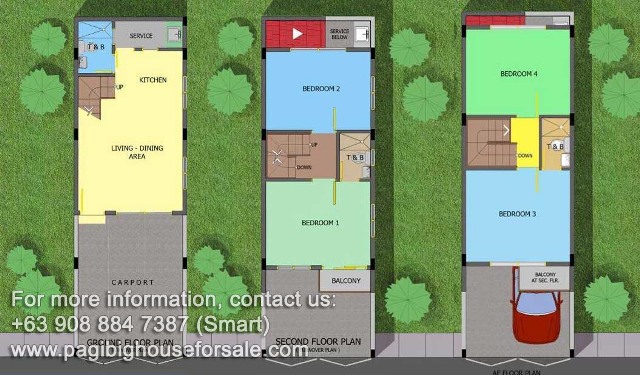 Milano Dressed-up Photos▲
Dressed-up photos are presented as ideas or suggestions on how to improve, decorate and furnish your unit. You may imitate or copy the design free of charge.
La Terraza Location Map▲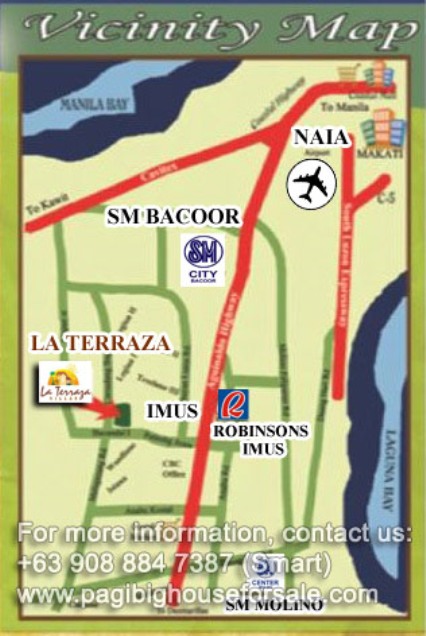 How to Reach La Terraza▲
From Makati / Baclaran 
Ride jeepney/bus in Baclaran or Coastal Mall with signboard Dasma Bayan
Get off at Imus Terminal near BDO Imus.
 Take jeepney with signboard Dasma Bayan
Get off at Carsadang Bago junction
Walk or take tricycle going to La Terraza Villas.
Contact Us
Learn more about La Terraza Villas House Model by clicking this link Milano. Allow us to help you find the home you dream for your family. And as starter, tripping vehicle, viewing assistance and computation request is FREE and No Charge. Get your schedule now by emailing:   inquire@pagibighouseforsale.com.  Or call or text us at  (+63) 908 884 7387 (Smart)
Back to Pag-ibig Houses
Amenities
Clubhouse
Basketball Court
Entrance Gate
Nearby Facilities
Malls: The District, Lotus Mall, SM Bacoor, Robinsons Imus
School: International British Academy, Del Pilar Academy, Imus Pilot Elementary School, St. Edward Integrated School
University: Cavite State University, Montessori Professional College, Imus Institute
Church: Primarosa St. James Catholic Church, Imus Cathedral, Our Lady of Fatima Parish Church
Hospital: Medical Center Imus, Our Lady of the Pillar Hospital, Imus Family Hospital, Metro South Medical Center
Pre-Qualifying Questions▲
Our goal is to help in your home search. Please fill-up form below if you want to know if you are qualified for a Pagibig housing loan. We guarantee to keep information confidential. Thank you.
How To Buy▲
Step 1 – Contact Us
Step 2 – Schedule a house viewing date
Step 3 – Reserve a Unit
Step 4 – Pay your monthly Dp/Equity
Step 5 – Personal appearance
Step 6 – Submit Requirements
Step 7 – Loan Process
Step 8 – Loan Take-Out
Step 9 – House Inspection
Step 10 - Move-in
Required Upon Reservation▲
Locally Employed
2 Valid Government ID
Payslip
OFW
Valid ID / Job Contract
Latest one (1) month payslip
Self-Employed
Valid ID
Latest financial Statement
Personal Requirements▲
4 pcs. 1 x 1 ID picture
Birth Certificate (if single)
Marriage Certificate (if married)
Death Certificate (if widow / widower)
Proof of Billing Address
Certificate of Tenancy
Valid ID of Landlord (if renting)
2 Valid ID (Government issued)
Approved MSVS
Special Power of Attorney
Valid ID of Atty-in-fact
Residence Certificate/ Cedula
Postdated Checks (DP & Amortization)
View General Requirements List . .
For Locally Employed, please add▲
Certificate of Employment
Latest Income Tax Return (ITR)
Lastest 3 mos. Payslip
Service Record
Copy of latest ESAV
For OFW, please add▲
Job Contract
Certificate of Employment
Proof of Remittance
Photocopy of Passport
Special Power of Attorney
Copy of latest ESAV
Other Proofs of Income
For Atty-in-Fact (SPA)▲
Latest ID Picture
Cedula
2 Valid IDs
Tax Identification No.
Pag-ibig Houses in Cavite▲
Video▲

HDMF or Home Development Mutual Fund Pag-IBIG Housing Loan Program Courtesy by Pag-ibig.