Green Gate 1 - Cheap Houses for Sale Imus Cavite
Pag-ibig Rent to Own Houses for Sale starting at Php 745,000.00 - Php 1M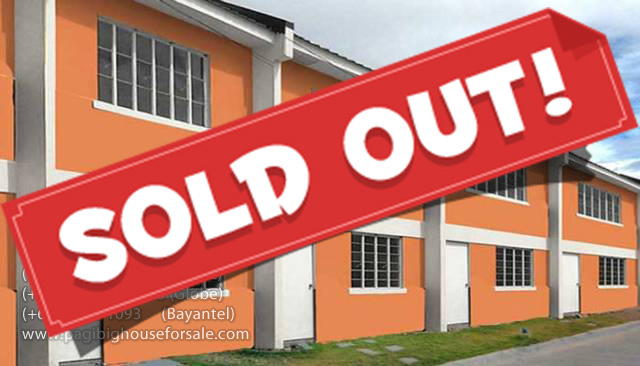 - (SOLD OUT)

Green Gate Homes 1 offers 2 storey cheap houses for sale thru Pag-Ibig in Imus Cavite with basic finishes and no bedroom partition. Nicely located in Barangay Malagasang 2A, Green Gate Homes 1 is the answer to your long time dream of buying your family the home that they can be proud of. Available thru Pag-ibig financing with installment equity payment, there's no reason why you can't own one. Schools, malls, church and hospitals are nearby especially the popular Puregold in Anabu Imus. From Baclaran, it's just 45 minutes by public transport.
If you are really serious in your home search and in realization of your dream, then it is a must to visit Green Gate Homes 1. Monthly equity is as low as Php 2,980.47 payable in 5 months installment. So hurry. Don't miss this great opportunity to own a home. Call now.
Warning: Units are selling like hotcakes
-(SOLD OUT)
About Katrina
| | |
| --- | --- |
| House Model | Katrina |
| House Type | Townhouse |
| House Turn-over | Basic |
| Village Name | |
| Condition: | Brand New |
| Lot Area | 36 square meter |
| Floor Area | 42 square meter |
| Bedroom Provision | 2 |
| Toilet and Bath | 1 |
| Carport | None |
| Price Range | Php 745,000.00 - Php 1M |
| Available Units | Pre-Selling and Ready for Occupancy |
| Developer/Owner | Homemark, Inc. |
| Track Record | 10 yrs. (2004) |
| Address | Barangay Malagasang 2A, Imus City, Cavite 4103 |
Katrina Sample Computation▲
Applicant Housing Loan Qualification ▲
Gross salary (husband & wife) meet the required amount.
If salary is not enough, just get a co-borrower.
Must be legally married to husband or wife.
If divorce or wedding is annulled, must submit documents as proof.
Multi-purpose loan payment with Pagibig is updated.
Must be a Pagibig member for 2 years.
If not yet a member, just apply for membership in Pagibig office near you.
Must have paid 24 months contribution.
If contribution has not reach 24 mos, just pay the balance in lumpsum or one time payment in Pagibig office near you.
Your age is between 21 – 65 yrs. old.
Must check that loan maturity is up to 70 yrs old only.
Katrina Payment, Terms & Conditions▲
1.  Available Financing / Acceptable Payment Scheme:
Pagibig  (HMDF) – Developer will process your loan with Pag-ibig
In-house Financing (IHF) – Developer will extend the loan to Buyers
Deferred Cash – Maximum of one (1) year to pay in equal monthly installment NO interest.
Cash
2.  Total Contract Price – includes Title transfer cost and part of miscellaneous expenses
3.  Reservation Fee (RF) – Accept  Cash and Check only.  Reservation fee is not refundable and not transferable.
4.  Required Downpayment (DP) or Equity  – Buyer may deposit DP cash payment thru Developer's Bank.  Scan email the deposit slip to us for encoding.
Pagibig  – in accordance to existing guidelines.  No interest
Inhouse – 20% required DP payable in 12 monthly installment.  No interest
Conditions:
Downpayment is transferable accompanied by a request letter and a transfer fee of Php 3,000.00.
Downpayment must be made before end of DP term.
Downpayment is transferable only to first degree of consanguity or affinity.
5.  Amortization Interest Rate & Terms  –  Amortization is not refundable and not transferable
Pagibig  –  Monthly amortization is computed at:

8% per year.  Fixed rate for 3 yrs.
Amortization amount is subject to reprising after 3 years as per Pag-ibig policy.
Amortization amount does not include other fees such as MRI insurance, Pag-ibig monthly contribution, etc.
The exact monthly amortization will be determined during loan processing.
Maximum loan term is up to 30 yrs.
Inhouse  – Monthly amortization is computed at:

12% interest/year for 5 yrs.
16% interest/year for 10 yrs.
18% interest/year for 15 yrs.
6.  Schedule of Payments
Reservation Fee – valid for 30 days
DP /Equity  – 30 days after official reservation
Monthly Amortization – after loan take-out by Pagibig
Deferred Cash – 30 days after reservation. 
7.  Discounts
Full payment of DP or Equity

Pagibig Financing – NO discount
Inhouse Financing – 3% discount if paid within 5 days
Full payment of Total Contract Price (TCP)  - for Pagibig & Inhouse Financing

10% discount if paid within 5 days
5% discount if paid within 30 days
8.  Other Fees to Pay Separately
Move-in Fees – to be paid 45 days before move-in

Estimated Move-in Fee:  Php 8,500.00
Move-in Fees are payment for -

Advance insurance and realty tax
Homeowner Association (HOA) Membership and dues,
Water connection and other expenses related to move-in
Meralco connection will be personally paid & applied by the Buyer

Construction Bond Amount – to be paid 30 days before start of construction.  This is refundable If there is no damage after construction. The premium of the bond will be deducted.

Estimated Amount:  Php 5,000.00 – house improvement
9.  Required Documents During Reservation – No Documents,  No Reservation
Locally Employed -  2 Valid ID and  Latest one (1) month payslip
OFW -  2 Valid ID & Job Contract or Latest one (1) month payslip
Self-Employed – 2  Valid IDs and Latest financial Statement
10.  When can Buyer move-in?
Pagibig Financing – Buyers are allowed to move-in after full equity,loan take-out and insuance of postdated checks
Inhouse Financing  – Buyers are allowed to move-in after full DP and isuance of Postdated Checks
11.  Construction of the house
Pagibig Financing – to be determine by the Developer
Inhouse Financing – after payment of full downpayment
12.  Restrictions on House Improvement  – Buyer must submit sketches of house improvement to Developer's office for approval. No deletion on any part of the house is allowed.
13.  Prices of house and lot are not always the same.
Price of end unit, corner lot, main road and near amenities units are higher than inner lot.
House and Lot prices will NOT be the same, as it varies and depends on lot orientation.
Prices are subject to change without prior notice.
Always verify all amounts in the computation with us if they are still available or not.
Katrina Floor Plan▲
Katrina Actual Turn Over House Finishes▲
Floor  – Ground floor -  Plain Cement (Plain Cement Slab)
Floor  – Second floor -  Plain Cement (Plain Cement Slab)
Interior Walls  - Plain white paint
Exterior Walls  - Plain cement plaster w/ Semi-Gloss paint
Windows  Front -  Steel casement windows
Windows  Back -  Jalousie
Ceiling on Ground Floor  –  None
Ceiling on Second Floor  -  None
Toilet & Bathroom  -  Plain Cement Finish
Bedroom  - Without bedroom partition at the second floor
Stairs  -  Cement and Metal Railings
Kitchen Counter -  Plain cement                   (with single stainless kitchen sink)
Roofing – Pre-Painted long Span on Steel Roof Framing
Septic tank – Individual septic tank
Plumbing  & Electrical – Standard
Doors:  Main Door:  Flush Door, Bedroom: Flush door, Toilet & Bath:  PVC, Utility: Flush Doors
Katrina Actual Turn-over Photos▲
Please take note that these are actual turn-over. Buyers are free hand, in improving their house exactly how they plan it to be.
Katrina Dressed-up Photos▲
Dressed-up photos are presented as ideas or suggestions on how to improve, decorate and furnish your unit. You may imitate or copy the design free of charge.
Location Map▲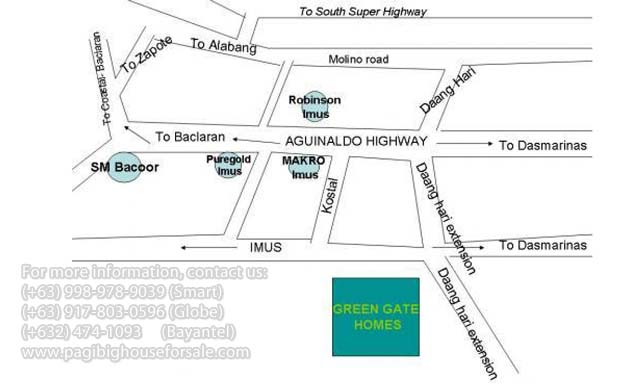 How to Reach ▲
Route  1: From Baclaran
Take bus at Coastal Mall with signboard Dasmarinas
Get off at Puregold or Shopwise Anabu
Take tricycle going to Green estate  Homes
Contact Us
Learn more about Green Estate 3 House Model by clicking this link Greengate3 and Greengate1. Allow us to help you find the home you dream for your family. And as starter, tripping vehicle, viewing assistance and computation request is FREE and No Charge. Get your schedule now by emailing:   inquire@pagibighouseforsale.com.  Or call or text us at  (+63) 998 978 9039 (Smart)
Back to Pag-ibig Houses
Amenities
Entrance Gate with guardhouse
Clubhouse and basketball court
Centralized water system
Wide Concrete Roads and Alleys
MERALCO Electrical Facilities
Underground Drainage System
Nearby Facilities
Malls:   Robinsons Place Imus, Lotus Mall, The District
School:   Elizabeth Seton School, Malagasang 2 Elem. School
Church:  Holy Parish Church, Iglesia ni Cristo, United Pentecostal Church
Hospital:  Our Lady of Pillar, St. Dominic Hospital
Pre-Qualifying Questions▲
Our goal is to help in your home search. Please fill-up form below if you want to know if you are qualified for a Pagibig housing loan. We guarantee to keep information confidential. Thank you.
How To Buy▲
Step 1 – Contact Us
Step 2 – Schedule a house viewing date
Step 3 – Reserve a Unit
Step 4 – Pay your monthly Dp/Equity
Step 5 – Personal appearance
Step 6 – Submit Requirements
Step 7 – Loan Process
Step 8 – Loan Take-Out
Step 9 – House Inspection
Step 10 - Move-in
Required Upon Reservation▲
Locally Employed
2 Valid Government ID
Payslip
OFW
Valid ID / Job Contract
Latest one (1) month payslip
Self-Employed
Valid ID
Latest financial Statement
Personal Requirements▲
4 pcs. 1 x 1 ID picture
Birth Certificate (if single)
Marriage Certificate (if married)
Death Certificate (if widow / widower)
Proof of Billing Address
Certificate of Tenancy
Valid ID of Landlord (if renting)
2 Valid ID (Government issued)
Approved MSVS
Special Power of Attorney
Valid ID of Atty-in-fact
Residence Certificate/ Cedula
Postdated Checks (DP & Amortization)
View General Requirements List . .
For Locally Employed, please add▲
Certificate of Employment
Latest Income Tax Return (ITR)
Lastest 3 mos. Payslip
Service Record
Copy of latest ESAV
For OFW, please add▲
Job Contract
Certificate of Employment
Proof of Remittance
Photocopy of Passport
Special Power of Attorney
Copy of latest ESAV
Other Proofs of Income
For Atty-in-Fact (SPA)▲
Latest ID Picture
Cedula
2 Valid IDs
Tax Identification No.
Pag-ibig Houses in Cavite▲
Video▲

HDMF or Home Development Mutual Fund Pag-IBIG Housing Loan Program Courtesy by Pag-ibig.