Diana at Lancaster New City - Pag-ibig Rent to Own Houses in General Trias Cavite
Pag-ibig Rent to Own Houses for Sale starting at Php 1.4M – Php 1.8M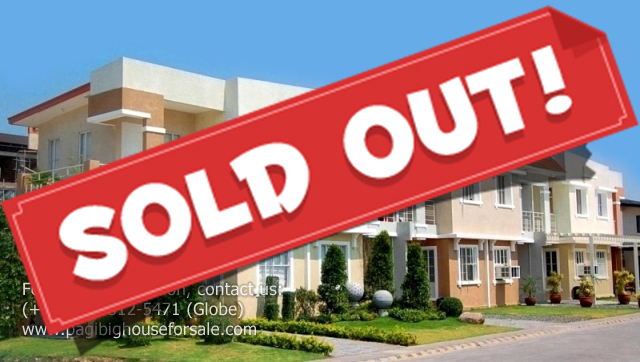 (SOLD OUT)

Diana at Lancaster New City Cavite, is a two-storey cheap town house model for sale thru Pag-Ibig in Gen.Trias Cavite. Diana town house has a 3 bedrooms, balcony, 1-car garage, 60 sqm floor and 50 sqm lot area. If you are looking for a good cheap house through Pag-ibig Financing at a quality price, Take advantage of this Pag-ibig Diana at Lancaster New City Cavite. We guarantee free house viewing assistance.
Why Buy Diana? Because Diana has:
Has bedroom partition. You don't have to spend so much amount for wall partition.
Has painted walls inside and outside interiors. Has is already liveable when you move in.
Has a parking area for 1 car garage.
Has a two or more electrical outlets in all bedrooms,kitchen and living room.
Has a balcony for you to relax.
Has a laundry area at the back with already electrical outlet and faucet.
Has a unique house design pattern after house in other asian countries.
Has 2 toilet and bath fitted with wall & floor tile and shower fittings.
Has a spacious bedrooms good for double bed.
Has a concrete stair ways with steel handrail.
Has bedroom in ground floor so ideal for guest room, grandparents, kids study room or entertainment/music room.
You cannot find this features in other Pag-ibig housing. To see is to believe, So call now (+63) 908 884 7387 (Smart) for your tripping schedule. Take advantage of this Pag-ibig offer because this is only a promo. Financing will change after the promo.
(SOLD OUT)
About Diana Lancaster New City
| | |
| --- | --- |
| House Model | Diana Lancaster New City |
| House Type | Townhouse |
| House Turn-over | Semi-Complete |
| Village Name | Kensington Place |
| Condition: | Brand New |
| Lot Area | 50 square meter |
| Floor Area | 60 square meter |
| Bedroom Provision | 3 |
| Toilet and Bath | 2 |
| Carport | 1 |
| Price Range | Php 1.4M – Php 1.8M |
| Available Units | Pre-Selling |
| Developer/Owner | Property Company of Friends |
| Track Record | 15 yrs. (1999) |
| Address | Barangay Alapan 2-A, Imus and Barangay F. Manalo, in Gen. Trias, Cavite. |
Diana Lancaster New City Sample Computation▲
Applicant Housing Loan Qualification ▲
Gross salary (husband & wife) meet the required amount.
If salary is not enough, just get a co-borrower.
Must be legally married to husband or wife.
If divorce or wedding is annulled, must submit documents as proof.
Multi-purpose loan payment with Pagibig is updated.
Must be a Pagibig member for 2 years.
If not yet a member, just apply for membership in Pagibig office near you.
Must have paid 24 months contribution.
If contribution has not reach 24 mos, just pay the balance in lumpsum or one time payment in Pagibig office near you.
Your age is between 21 – 65 yrs. old.
Must check that loan maturity is up to 70 yrs old only.
Diana Lancaster New City Payment, Terms & Conditions▲
Buying Guide & Procedure
Get a viewing schedule by calling – texting, email or chat. Tripping vehicle and assistance is FREE.
Know the financing & payment terms to avoid misunderstanding. After viewing the actual site and model unit, have a sit down discussion on the sample computation and request for an explanation about the terms and process of payment.
Choose and pay reservation fee. Sellect the best location from our Sales Map. No payment, no reservation.
 Submit documents in 60 days. Profriends will give you a list of requirements to submit within 60 days.
 Pay monthly due dates. During reservation, you will be given a schedule of your monthly payment. This will start within 30-45 days from reservation date. Your monthly amortization will start after the downpayment term is fully paid.
Follow-ups and Updates
For Profriends housing projects, you may email Customer Service to ask any of the following:
Check your lacking documents or requirements
Wants to change Due Date – can only request once. Admin Fee: Php100.00
Wants to change unit or ownership – must be done within 120 days from reservation date. Transfer Fee: Php3,000.00
Hold Check Request – must submit request 10 working days before due date. Holding Fee: Php100.00
Verify Payments or request a payment ledger.
You may submit by scan email your ID, cedula & passport.
Follow-up status of bank loan application.
Wants to know status of house construction.
Update on house turn-over schedule or move-in date.
House Inspection Date or request a Certificate For Inspection (CFI)
Other matters you want to know the current status.
Note:
Unit ID – Always indicate your Unit ID (Block & Lot of your house) in all emails sent to Profriends.
Accepted Signatories - Only signature / emails of Buyers or their Atty-in-Fact (SPA) are allowed/accepted.
Request Approval – Request approval may take 2-4 weeks.
Send Us Copy – Please don't forget to send us copy of your email for future references.
Profriends Customer Service
Email: customerservice@profriends.com
Telephone Landline No.: (632) 727-7000


Diana Lancaster New City Floor Plan▲
Diana Lancaster New City Actual Turn Over House Finishes▲
Three (3) Bedrooms

Two (2) Toilet and Baths

Living Area

Dining Area

Kitchen

Balcony

Provision for one (1)-car Garage

Pre-painted G.I. Shoot Roofing
Steel Casement Window
Painted Exterior and Interior Wall Finish
Tiled Kitchen Counter
Tiled Bathroom Flooring
Floor Cement Finish
Diana Lancaster New City Actual Turn-over Photos▲
Please take note that these are actual turn-over. Buyers are free hand, in improving their house exactly how they plan it to be.
Diana Lancaster New City Dressed-up Photos▲
Dressed-up photos are presented as ideas or suggestions on how to improve, decorate and furnish your unit. You may imitate or copy the design free of charge.
Kensington Place Master Plan▲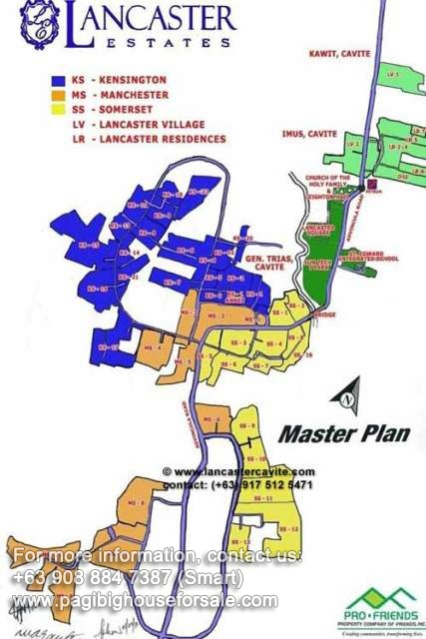 Kensington Place Location Map▲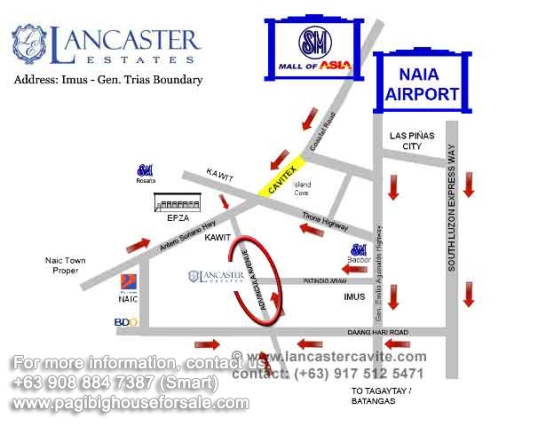 How to Reach Kensington Place▲
Route  1:  From Cubao, Starmall Edsa, or Makati via Baclaran: Take a bus to Baclaran. From Baclaran, ride on a bus with signboard Tanza or Naic / Maragondon taking the CAVITEX (Cavite Expressway) or Emilio Aguinaldo route. Get off at LANCASTER ESTATES. Take tricycle in going inside LANCASTER ESTATES.
Route  2: From Cubao, Starmall Edsa, or Makati via SM Bacoor: Take a Jasper bus with Dasmarinas – E. Aguinaldo Highway route or signboard. Get off at SM Bacoor. From SM Bacoor, you can get on the jeepney or bus bound for Tanza or Naic / Maragondon taking the Centennial Road route. Get off at LANCASTER ESTATES. Take tricycle in going inside LANCASTER ESTATES.
Route  3: From Lawton Direct: Take a bus with Tanza or Naic / Maragondon signboard via CAVITEX or E. Aguinaldo Highway route. Get off at LANCASTER ESTATES. Take tricycle in going inside LANCASTER ESTATES.
Route  4: From Tagaytay: Take a bus or jeepney going to Baclaran or Zapote. Get off at SM Bacoor. From SM Bacoor, you can get on the jeepney or bus bound for Tanza or Naic / Maragondon taking the Tirona Highway route. Get off at LANCASTER ESTATES. Take tricycle in going inside LANCASTER ESTATES.
Contact Us
Learn more about Diana Model by clicking this link Lancaster New City. Allow us to help you find the home you dream for your family. And as starter, tripping vehicle, viewing assistance and computation request is FREE and No Charge. Get your schedule now by emailing:   inquire@pagibighouseforsale.com.  Or call or text us at  (+63) 908 884 7387 (Smart)
Back to Pag-ibig Houses
Amenities
Church of the Holy Family
Entrance Gate
St.Edward Integrated School
Leighton Clubhouse
Swimming Pool
Lancaster Square
Parks and Playground
Bus Terminal
Sports Facilities
Nearby Facilities
Malls
Lancaster Square
Robinsons Imus
SM Rosario
SM Bacoor
SM Dasmarinas
Ayala Town Center
Festival Mall
Metropolis Alabang
Place of Work
NAIA
Mall of Asia
MRT Edsa Taft
Makati Business Center
US Embassy
Lawton
Starmall Edsa – Mandaluyong
SM Megamall
Robinsons Galleria – Ortigas
Araneta Center – Cubao
Monumento, Caloocan
Tagaytay
Hospitals
Kawit Kalayaan Hospital
Divine Grace Medical Center
Imus Medical Center
Our Lady of Pilar Hospital
St. Dominic Hospital
De La Salle Medical Center
Asian Hospital Alabang
Emilio Aguinaldo Memorial Hospital
Pre-Qualifying Questions▲
Our goal is to help in your home search. Please fill-up form below if you want to know if you are qualified for a Pagibig housing loan. We guarantee to keep information confidential. Thank you.
How To Buy▲
Step 1 – Contact Us
Step 2 – Schedule a house viewing date
Step 3 – Reserve a Unit
Step 4 – Pay your monthly Dp/Equity
Step 5 – Personal appearance
Step 6 – Submit Requirements
Step 7 – Loan Process
Step 8 – Loan Take-Out
Step 9 – House Inspection
Step 10 - Move-in
Required Upon Reservation▲
Locally Employed
2 Valid Government ID
Payslip
OFW
Valid ID / Job Contract
Latest one (1) month payslip
Self-Employed
Valid ID
Latest financial Statement
Personal Requirements▲
4 pcs. 1 x 1 ID picture
Birth Certificate (if single)
Marriage Certificate (if married)
Death Certificate (if widow / widower)
Proof of Billing Address
Certificate of Tenancy
Valid ID of Landlord (if renting)
2 Valid ID (Government issued)
Approved MSVS
Special Power of Attorney
Valid ID of Atty-in-fact
Residence Certificate/ Cedula
Postdated Checks (DP & Amortization)
View General Requirements List . .
For Locally Employed, please add▲
Certificate of Employment
Latest Income Tax Return (ITR)
Lastest 3 mos. Payslip
Service Record
Copy of latest ESAV
For OFW, please add▲
Job Contract
Certificate of Employment
Proof of Remittance
Photocopy of Passport
Special Power of Attorney
Copy of latest ESAV
Other Proofs of Income
For Atty-in-Fact (SPA)▲
Latest ID Picture
Cedula
2 Valid IDs
Tax Identification No.
Pag-ibig Houses in Cavite▲
Video▲

HDMF or Home Development Mutual Fund Pag-IBIG Housing Loan Program Courtesy by Pag-ibig.